How gardens make children feel empowered in togetherness
Intercultural gardens as green bridges: Transferability of good practices from Horizon 2020's MATILDE to REFUGE-ED.
By Vanina Ninova with contribution of the REFUGE-ED Bulgarian team.
The 74th "Gotse Delchev" School in Sofia is one of the 46 REFUGE-ED pilot sites. In October 2022 students of different origins and ethnicities planted flowers and saplings in the school where they study, play and grow up together. This was part of the initiative 'Intercultural Gardens as Green Bridges'.
Every culture poetizes nature. The rose is emblematic of Bulgarian identity but it is also the national flower of Iran and Iraq. When we say tulip, we envision the Netherlands, but it is the national flower of both Turkey and Afghanistan. The green initiative is a participatory activity that connects children from different countries and cultures and all of us – teachers, parents, and citizens – with nature. It aims to impact community-space interactions through TCNs integration.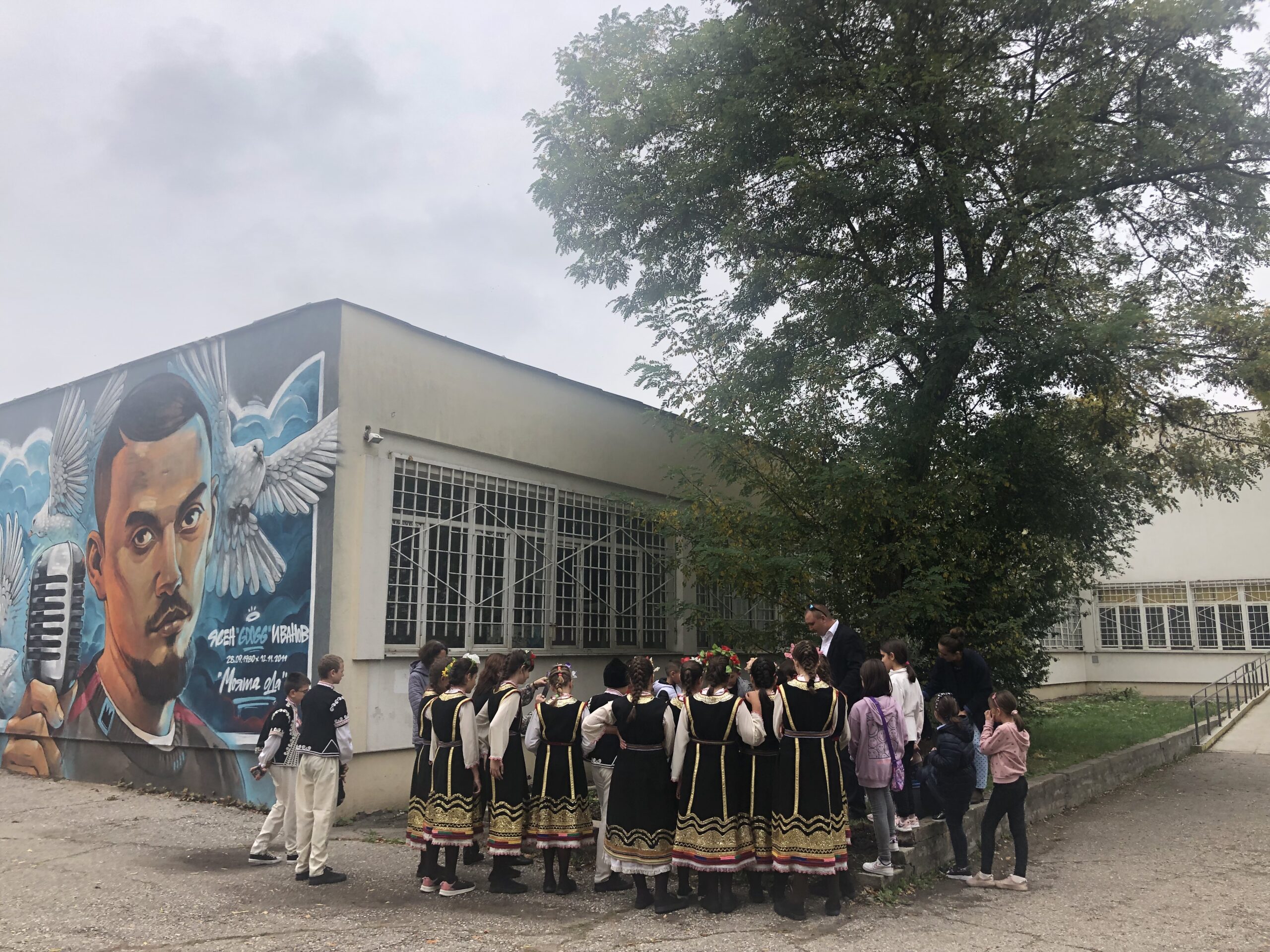 Green intersectionality
The leader of the Bulgarian REFUGE-ED team, prof. Anna Krasteva created the concept of intercultural gardens as green bridges defining them as 'green intersectionality' as they connect people, nature and cultures, different generations, girls and boys. Activities, combining art and nature, help to minimize the risk of exclusion of TCNs in schools, creating space for rich interactions.  The idea was created and implemented within Matilde-Migration project (H2020) and is currently transferred to Refuge-Ed.
The 74th 'Gotse Delchev' school where the intercultural garden was planted is a municipal public school providing education from 1st to 12th grade. The students' background is diverse in terms of ethnicity (Bulgarians, Roma, migrants from Vietnam, Bangladesh, China). There have been refugee children previously enrolled in the school but many of them have opted to be reunited with their families outside of Bulgaria.
The initiative 'Intercultural Gardens as Green Bridges' followed a celebration of the school dedicated to the inauguration of the renovated school building within the project "I Love my School". The students created two intercultural gardens in the school yard by planting with great enthusiasm trees and flower bushes. The plants were selected to have a symbolic meaning that was easily recognised by the children: an olive tree – a symbol of peace and friendship globally; silver pine – associated with family and home; chrysanthemums – commonly known as 'fall roses' a symbolic flower for many nations – related to happiness.
Creating community through care for nature
With the help of one of the resource teachers, children from all ages and backgrounds, including migrant and refugee, took part in the planting and initial care for their own Garden. Its main meanings revolved around creating community, peace and friendship and bonding with each other beyond the commonality of everyday social life – through care for nature. The team prepared a time capsule with inspiring cards that every child could fill with his/her dreams related to these topics. They will be given to children with 'special educational needs' to include them within the initiative.
Тhe initiative was also an opportunity for the Bulgarian team to present the ideas of REFUGE-ED project and its current implementation in the 74th school as well as the envisaged future actions to a broader audience, incl. school administrative staff, teachers and students and to a group of international guests visiting the school in the frame of the 'I Love my School' project.
The initiative to create intercultural gardens is not a one-off event, but one with a long-lasting effect into the future. It continues to resonate and to create an impact. It was implemented for the first time with great success in several schools with refugee, migrant and minority children in Harmanli town within Matilde-Migration project.